Class of 2021: Christie Pearce Rampone Elected to Hall of Fame
During a disappointing bus ride home on the Garden State Parkway after her team's frustrating 74-50 basketball loss at St. Peter's College on Dec. 11, 1996, the mood and the life of Monmouth University senior guard Christie Pearce was about to change dramatically.
Pearce was called up to the front of the bus by head coach Sue DeKalb and was handed a letter from the U.S. Women's National Team, inviting the 21-year-old to its January training camp in San Diego.
At first, she thought it was a joke or a scam. Then reality set in quickly for Pearce, a multi-sport athlete who as a forward had set every soccer scoring record for the Monmouth soccer team.
At the time, it was not an easy decision, as the senior team leader would have to miss several basketball games to attend National Team camp. In the end, she decided it was an opportunity she couldn't pass up and she accepted the invite.
The rest, as they say, is USWNT history. Pearce — known for most of her legendary career as Christie Rampone — has lived through some history and made some as well. During a storied 19-year international career, the New Jersey native wound up as a mainstay of a team that captured two Women's World Cup championships and three Olympic gold medals.
"There's nobody else that deserves it more"- @AbbyWambach

Congratulations Christie, you're going to be a Hall of Famer.

From one @USWNT Legend to another, Abby Wambach('19) was there to surprise @christierampone with the moment. #NSHOF21 pic.twitter.com/EHovXWgR9z

— National Soccer HOF (@soccerhof) June 9, 2021
She appeared in an astounding 311 international matches and played 24,011 minutes in a U.S. uniform, second to only Kristine Lilly's world-record 346 games and stunning total of 28,874 minutes. Except for some injuries and time off for the birth of her two daughters, Pearce Rampone kept her place in the lineup, starting 87% of her caps totaling 272 starts, also second only to Lilly in U.S. history.
She played in nine world championships for the USA — five World Cups and four Olympics — and was a starter in all but her first (the 1999 WWC) and last (the 2015 WWC).
READ: Christie Pearce Rampone, Steve Cherundolo Headline 2021 Class of the National Soccer Hall of Fame
She also competed in all three iterations of the nation's women's pro soccer leagues: the Women's United Soccer Association, Women's Professional Soccer and the National Women's Soccer League.
For her achievements and outstanding leadership, Pearce Rampone will be inducted into the National Soccer Hall of Fame on Oct. 2 in Frisco, Texas. She was elected in her first year of eligibility on the Player Ballot.
Pearce Rampone grew up in Point Pleasant, N.J., where she was a four-sport star at Point Pleasant Boro High School. She scored 2,190 points during her high school hoops career and became the first female athlete in state history to lead her conference in scoring in three sports (basketball, soccer and field hockey).
Fiercely recruited by many schools, Pearce Rampone, now 45, decided to attend Monmouth on a basketball scholarship.
She continued to compete in soccer and set career and season scoring records that still stand to this day. From 1993-96, she tallied 79 goals and 54 assists for 212 points. It also should not come as any surprise that in 1996, Rampone set season records in goals (29), assists (17) and points (75), surpassing standards she had set in previous seasons.
After accepting the USWNT invite, she traveled to San Diego for her first National Team camp just months after the U.S. had won the first Olympic gold medal for women's soccer. The team was stacked with stars, but she hardly knew any of them. The USWNT had barley been on TV to that point, and the Olympic matches were not broadcast live. She went in with a naivete that perhaps proved valuable.
She knew how to compete, and that's what she did.
Already blessed with a myriad of world-class attacking options, head coach Tony DiCicco, who had seen her in a college game in his home state of Connecticut and was looking to perhaps turn some athletic forwards into defenders, told her she would be playing in the back.
That was of course not an issue for this unknown from the Jersey shore, who fancied herself a decent defender on the basketball court and would transfer that footwork and mentality into her soccer career.
It didn't take long for Pearce Rampone to start moving up the ladder. She made her international debut, replacing Thori Staples Bryan in a 4-0 win over Australia in Melbourne on Feb. 28, 1997, and started her first game three days later in a 3-1 victory over the Aussies in Bathurst, Australia, on March 3. The speedy Pearce Rampone also played a bit of flank midfielder in the early days and tallied the first of four career international goals in a 7-0 triumph over South Korea in Milwaukee on May 2, 1997.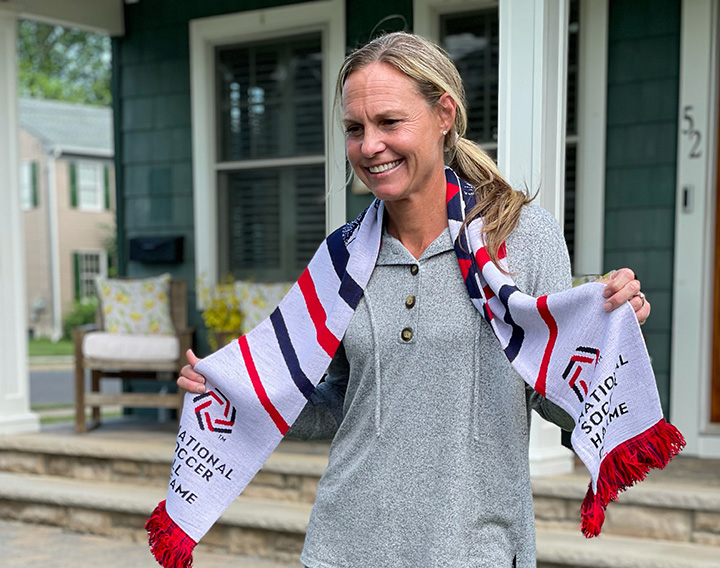 Her international career essentially was bookended by a pair of FIFA Women's World Cup championships in 1999 and 2015. In between, she won four Olympic medals — three gold (2004, 2008 and 2012) and a silver (2000) while captaining the team from 2008 to 2015, earning the moniker of "Captain America." During her long career, she was always humble and often soft-spoken in the public eye, but she was consistently one of the most well-liked and respected players on the team.
When speaking at soccer functions, Pearce Rampone often brings her winners medals — even the silver ones, because she uses finishing second as a lesson for younger players.
In terms of numbers, it can be difficult to determine a defender's worth, but Pearce Rampone's 2008 might turn out to be one of the finest years in the history of a program in which standards have been set impossibly high. She started and played in 35 out of a possible 36 matches, helping the team win a gold medal at the Beijing Summer Games while the squad recorded more clean sheets (18) than goals allowed (17). No one else in the history of the team has played more minutes (3,066) in a calendar year. The U.S. forged a 32-1-2 record in 2008, its lone loss a 2-0 defeat to Norway in the Olympic opener.
It should not be surprising that her success translated to the club level.
Pearce Rampone began her pro career with the New York Power in the WUSA (2001-03) before joining Sky Blue FC in WPS (2009-10). After performing for magicJack (2011), she returned to her roots to close out her career with Sky Blue in the NWSL (2013-17). She scored twice in 183 professional club matches.
As an interim coach and player at the tail end of the 2009 WPS season, she led Sky Blue FC to its first and only championship while spearheading the defense on the field. After Sky Blue FC barely reached the postseason with a mediocre 7-8-5 record, the team went on a Cinderella run, logging three road wins, which culminated in a 1-0 victory over the Los Angeles Sol in the title game.
Afterwards, Pearce Rampone revealed that she had been three months pregnant with her second daughter, Reece, now 11, during the playoff run. Her first daughter, Rylie, traveled with the U.S. team for the first 10 years of her life.
Most recently, she has been a TV analyst and co-authored a book, Be All In, Raising Kids for Success in Sports and Life, with brain health expert Dr. Kristine Keane. Given that she balanced her successful career with motherhood, Pearce Rampone was a well-positioned partner in that project.
Now, on Oct. 2, 2021, Pearce Rampone will join a growing list of soccer legends from New Jersey to be enshrined in the National Soccer Hall of Fame.