Clint Dempsey Elected to National Soccer Hall of Fame
To many U.S. Men's National Team supporters, he was known simply as Deuce.
To many of his opponents, he probably was known as a menace and a headache.
Whether it was scoring goals or helping a teammate find the back of the net, Clint Dempsey always strived to make a difference for club and country.
Watch Clint Dempsey Receive the News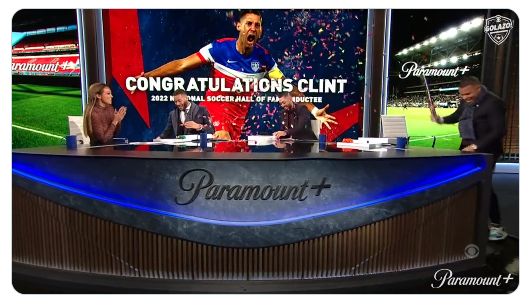 His accomplishments were many. Dempsey was the first USMNT player to score in three FIFA World Cups. When he decided to retire in 2018, the Nacogdoches, Texas, native had 57 international goals in 141 appearances, tying Landon Donovan for the all-time lead. For his four club teams in the U.S. and England, he tallied 129 times in 404 league matches.
So, it shouldn't be surprising that Dempsey accrued a countless list of honors and firsts during his 15-year career. That included winning U.S. Soccer Men's Athlete of the Year award three times, Fulham's player of the season twice, the 2004 MLS Rookie of the Year and the 2017 MLS Comeback Player of the Year. Dempsey also became the first American to play in a major European final when Fulham lost to Atletico Madrid in the 2010 Europa League. In 2020, he was inducted into the Texas Sports Hall of Fame.
Dempsey will be honored again on Saturday, May 21, when he will be enshrined in the National Soccer Hall of Fame in Frisco, Texas.
Deuce's career, however, cannot be defined by just numbers and awards. He was much more than that.
"Clint not only had good soccer skill — he had the extra sense to position himself and to strike, like a viper," Farshid Niroumand, his coach at Nacogdoches High School, told the Waco Tribune-Herald in 2020. "Out of nowhere he would come and score."
Dempsey was never scared of failure, demonstrating his creativity and versatility whether he played as a forward, winger or attacking midfielder.
"He's not afraid to try 'stuff,'" the late U.S. assistant coach Glenn Myernick told The Washington Post in 2006. "He has the element of the unpredictable to try a move to get him out of tight spot that maybe the opposition won't anticipate.
"And because he's not afraid to try some of those, that's what makes Clint who he is."
Dempsey knew who he was: someone who always played his heart out.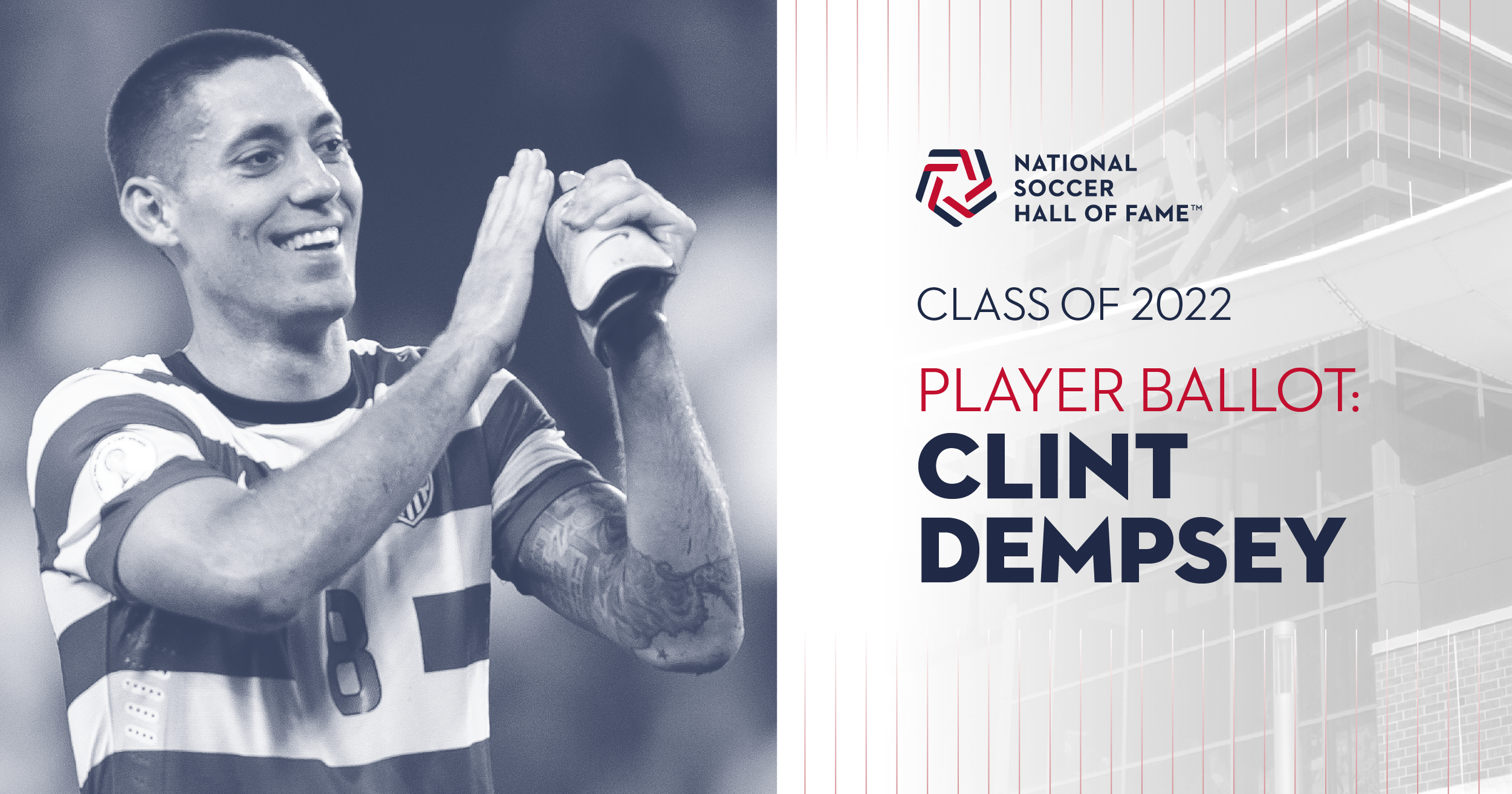 Former Furman University men's assistant coach Anthony Esquivel, who played with Dempsey in college, understood his friend well.
"In regards to soccer, I can't think of anybody that better symbolizes the American dream," he told the Greenville (S.C.) News in 2014. "He's had to really fight for everything. He's always found a way to overcome and take on adversity."
Born in Nacogdoches on March 9, 1983, Clinton Drew Dempsey was the fourth of five children. Growing up in a trailer park, Clint and his brother Ryan became interested in the sport after watching Hispanic boys kick soccer balls in their bare feet. As a youth, Dempsey competed in a local Mexican adult league on less-than-pristine pitches.
"He was 6 or 7 years old, and he always wanted to be dressed out and be with the big boys," Niroumand said. "He got involved, and it was very impressive the way he was ball handling. He was very aggressive and not intimidated by the older boys. It left a big impression on me."
With no competitive youth club soccer in their area, Dempsey's parents, Aubrey and Debbie, wound up driving their son on a six-hour, 200-mile, round trip three times a week to practice and play with the Dallas Texans, an elite club team He also starred for the high school soccer team.
When he was 12, Dempsey's 16-year-old sister Jennifer, an excellent tennis player, died of a brain aneurysm. Dempsey decided he had to make the most out of life, her passing affected him so.
"All you can do is kind of wake up each day and keep pushing forward," he told the Tribune-Herald. "Your faith is what kind of gives you peace in the situation, believing that she's in a better place and one day you'll see each other again. That's kind of been the way me and my family have always looked at it."
Dempsey continued his soccer ascension at Furman, collecting 17 goals and 19 assists while helping the school to a pair of NCAA Division I tournament berths. He wore No. 2, a defender's number, and continued the tradition when he joined the New England Revolution after his junior season. (Hence the nickname Deuce.)
The eighth pick in the 2004 MLS SuperDraft, Dempsey quickly became an impact player. He twice was named an MLS Best XI selection and was named four times to the MLS All-Star team. During his three-year tenure in New England, Dempsey scored 25 goals and assisted on 14 in 71 matches.
His early professional exploits did not go unnoticed. Dempsey made his international debut as a substitute during a 2006 FIFA World Cup qualifier on Nov. 17, 2004. He collected his first USMNT goal in a 2-1 loss to England on May 28, 2005.
Dempsey was the lone American goal-scorer in the 2006 FIFA World Cup, connecting in a 2-1 loss to Ghana. He added goals at South Africa 2010 (a 1-1 draw with England) and Brazil 2014 (29 seconds into a 2-1 win over Ghana, and a 2-2 tie with Portugal).
Some of his finest moments came during the 2009 FIFA Confederation Cup, striking in three consecutive contests while earning the Bronze Ball. He tallied in a 3-0 win over Egypt and added an insurance goal in the 2-0 upset of Spain, which snapped its 35-game unbeaten streak. Dempsey also recorded the first goal of the final before Brazil rallied for a 3-2 win.
His USMNT and club heroics opened a door to England. Beginning in 2006-07, Dempsey starred for Fulham for six seasons. He finished with 50 goals in 189 English Premier League matches, becoming the first American to reach that milestone. In 2012, he became the first American to secure an EPL hat trick.
Not surprisingly, Dempsey had a knack of contributing vital goals. He came off the bench to score his only goal of his first season in a 1-0 win over Liverpool, helping the Cottagers avoid relegation.
"I'm just trying to enjoy the moment and keep a level head because things can easily go up, but they can easily go down," Dempsey said in an interview for Fulham's website. "I've got to make sure that I continue working hard and I'm on the field more often. I think I can be a success in English football. If I didn't think that then I shouldn't be here.
"I believe in myself, and if you don't have belief, you won't succeed."
He succeeded quite well as Fulham's top goal-scorer in consecutive seasons. He also was the first American to reach double figures in an EPL season, finishing with 12 in 2010-11. He tallied 17 in 2011-12, tying for fourth in EPL scoring and fourth in 2011-2012 Football Writers' Association Footballer of the Year voting.
His stunning 19-yard chip shot put the exclamation point on the Cottagers' incredible 4-1 comeback win in the second leg against Juventus in the 2010 Europa League Round of 16 after the English side dropped the first leg, 3-1. Fulham won, 5-4.
Dempsey, who transferred to Tottenham Hotspur for the 2012-13 season, wore the No. 2 jersey for the first time since New England. He enamored himself with North London fans by connecting for the game-winner, his first goal for the club, as Tottenham defeated Manchester United, 3-2, for the first time at Old Trafford in 23 years.
In 2015, Deuce returned to the states, playing his final four seasons with Seattle Sounders FC, collecting 47 goals in 115 matches. An irregular heartbeat forced him to out of the 2016 season, in which Seattle won MLS Cup, before he retired two years later.
In 2021, Dempsey explained why he retired on The Crack Podcast, hosted by former USMNT players Oguchi Onyewu and DaMarcus Beasley. Dempsey, who lives with his wife Bethany and five children in Pinehurst, N.C., is a soccer commentator on CBS/Paramount+.
"I got burned out," he said. "Dealing with those two heart procedures ... it wasn't life threatening but it was career threatening. I felt like I couldn't go at 100 percent. I don't know if it was mentally or if it was just what my body was telling me.
"It was like my body was stuck in a certain gear. You couldn't push it as hard as I could before. ... Having that, dealing with the politics, dealing with your body getting older and more difficult to bounce back and the grind of it; it wasn't as enjoyable. It was good to take a step back and do things that I enjoy doing."
To many U.S. soccer fans, though, nothing was more enjoyable than watching Clint Dempsey perform.