Esse Baharmast Elected to National Soccer Hall of Fame
Whenever Esse Baharmast's name is mentioned, many soccer fans and observers might associate him with a controversial penalty kick call he made in a 1998 FIFA World Cup match during a steamy, hot night in Marseille, France.
That isn't such a bad thing. Eventually, the truth and the outcome weighed overwhelmingly in his favor.
But as the world has learned, Baharmast's career has been defined by more than just one highly publicized referee decision. To generations of soccer referees, he has been an instructor, a mentor, a friend and a prime example of what a game official should be — on and off the field.
"He's impacted the development of every U.S. FIFA referee," former FIFA referee Kari Seitz said. "Every single one of them, I'm sure, has been impacted and developed and improved because of him."
The respect Baharmast has earned from his colleagues has been immeasurable.
"The refereeing has to come from a passion and love for the game," FIFA referee Ismail Elfath said. "And then that never stopped even after you're done refereeing. To see him take all the experience that he has, and then share it with the rest of the referee ranks as a FIFA instructor — and command that respect that he does in any classroom, anywhere in the world — is something that's quite inspiring."
It should come as no surprise that Baharmast has received his share of accolades. The National Association of Sports Officials honored him with the Gold Whistle, its most prestigious award. In 2019, he was named the winner of the Werner Fricker Builder Award, the U.S. Soccer Federation's highest honor. Fricker, who passed away in 2001, was a U.S. Soccer president who was inducted in the National Soccer Hall of Fame in 1992.
"For Esse to receive this builder award, it is really significant because Esse is really the builder of the referee program of U.S. Soccer," said Dr. Joe Machnik, a member of the National Soccer Hall of Fame who was the award's presenter. "He's the foundation block. He's the referee who has accomplished the most and has continued to provide leadership."
On Jan. 22, Baharmast received the Walt Chyzowych Lifetime Achievement Award at the United Soccer Coaches convention in Kansas City, Mo. The award is named after the late U.S. Men's National Team coach who was inducted into the National Soccer Hall of Fame in 1997.
Baharmast will receive another high honor on Saturday, May 21, when he is inducted into the National Soccer Hall of Fame in Frisco, Texas.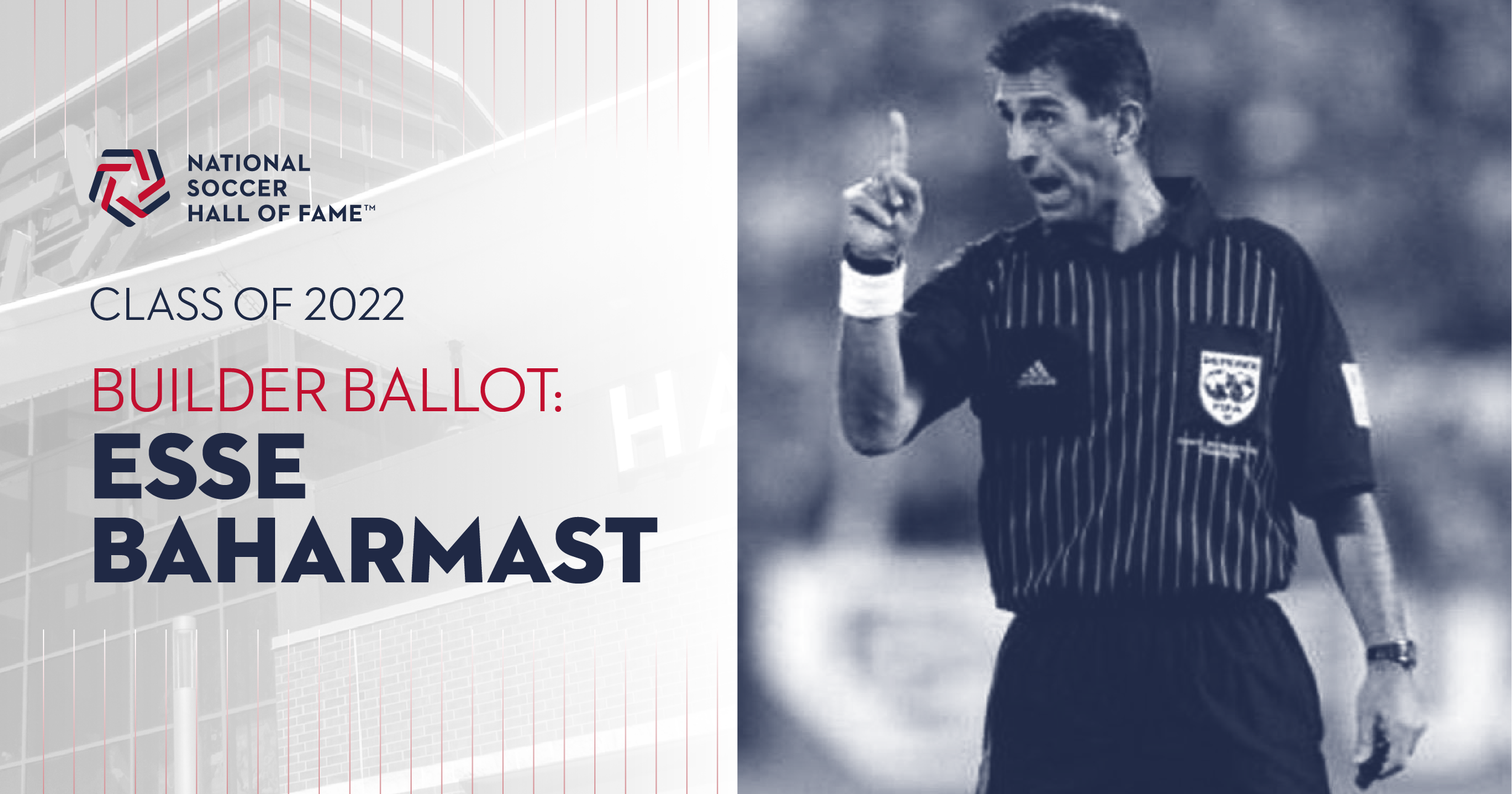 Born in Iran on March 11, 1954, Baharmast came to the United States when he was 18 to study English at the University of Kansas in Lawrence in 1972. While participating in a staff game at a soccer camp, he broke bones in both legs in a collision with the opposing goalkeeper.
His playing career over, Baharmast pursued officiating. With no professional outdoor soccer nearby, he ventured into indoor soccer, attending Major Indoor Soccer League games featuring the St. Louis Steamers and Kansas City Comets. Baharmast started as a goal judge, learning the intricacies of the indoor game by officiating amateur and youth indoor matches.
When a snowstorm prevented an East Coast game official from flying into Cleveland for an MISL contest, Baharmast replaced him and ran the middle of his first regular season match.
He eventually became a full-time MISL referee, working close to 80 games a year. Baharmast still continued to pursue outdoor responsibilities, working his way up the ladder, and he was named a FIFA referee in 1993.
In 1996, Baharmast recorded a referee's domestic grand slam by officiating Major League Soccer's inaugural match between the San Jose Earthquakes and D.C. United, the first MLS Cup (played in a nor'easter in Foxborough, Mass.), the Lamar Hunt U.S. Open Cup final and the final of the A-League (now United Soccer League).
He also worked the middle of the 1996 Olympic men's semifinal between Argentina and Portugal.
In 1997, FIFA asked Baharmast to work a match between Asian rivals Japan and Korea that would determine which country would qualify for the 1998 World Cup.
"There was a lot of history between the two countries," Baharmast said. "For FIFA to trust us with a big game like that, Japan and Korea in Korea at the Olympic Stadium in Seoul, was incredible. That was another game where we had no problems."
Japan won, 2-1.
"On the way back to the airport, the Japanese fans going back [home] … were bowing in respect," Baharmast said. "It was incredible. After the semifinal of Argentina and Portugal at the Olympics, FIFA had seen the games that I could do, the high-risk games, and they were comfortable giving those types of games to us."
Which brings us to Marseille, 1998. Baharmast became the first American to officiate two World Cup matches in a competition. He already worked the middle of the group-stage encounter between Spain and Nigeria before he was assigned the final Group A match between Brazil and Norway.
Brazil had qualified for the Round of 16. Norway needed a win to advance.
With the game tied in the 88th minute, Baharmast whistled Brazil's Junior Baiano for a shirt-holding foul that denied Tore Andre Flo a goal-scoring opportunity in the box.
"Immediately, I knew my angle was perfect," he said in 2020. "I'm looking straight at it. I don't believe he does it. How stupid can he be? Why is he doing it at the last minute? Even I hesitated a little bit because I don't want to call a penalty at the last minute. I am hesitating a little bit to see if an advantage comes. Maybe the ball goes to another Norwegian player who places it into the back of the net.
"[There was] no word from Junior Baiano. He was the first one out of there. Nothing out of the ordinary as far as protesting."
Norway converted the penalty kick for a 2-1 victory, qualifying for the next round. Because the proper angle wasn't shown on worldwide television, it looked like a phantom call — and all hell broke loose.
"To make matters worse, Morocco got eliminated from this, and the Moroccan coach was Henri Michel, who was the former French national team coach. He has the ear of the reporters who are talking," Baharmast said, adding that television stations showed a "split screen where the Moroccans are celebrating and jumping with joy after beating Scotland and now, they're crying."
"I told the people, 'Hey, all these cameras, tomorrow I'm going to open a newspaper, there's going to be a picture from behind the goal that shows the picture in a clear shot, and it would be good to go. No such thing. All it was talking about was scandal. It was a huge controversy: 'Incompetent referee. FIFA needs to send this referee home.'"
Vilified for "botching" such an important call, Baharmast remained steadfast.
"If I had to do this 100 times over again, I'd do it 100 times over," he said. "I know in my mind and my heart I made the correct call."
A few days later, a Swedish television station posted a video and pictures proving Baharmast was spot on.
"These things happen for a reason. Every tournament I went to I had to justify my presence there because everybody was cutting down the U.S., telling us 'You guys don't even have football, you call it by the name soccer. What do you guys know about the game? You have no business being here type of thing,'" he said. "Even after my decision on television, I remember that broadcasters who were showing the red card, who were saying, 'Send the referees from non-footballing countries back, and the World Cup should have the best referees ... two from Germany, two from France, two from England.'
"It was for us to endure the pain and ignorance of the people. ... Then they had to eat soccer crow after the video came out. It has served us well. Had the camera showed the correct angle immediately, it would have just been another penalty."
It was a watershed moment for American referees.
"At this point, how people thought of American referees wasn't very positive," Seitz said. "He changed all that. We are on the same level as any other country in the world. Despite the controversy, it actually made his integrity even better. It really set the bar very high for the rest of us ... He's impacted the development of every U.S. FIFA referee."
NASO described the PK decision as one of the top 20 calls of all time.
Baharmast decided to retire at the age of 44 in 1998. The MLS All-Star game was his final assignment.
He was named the head of U.S. Soccer's Referee Department from 1998 to 2001 before taking on the role as the federation's Director of Advanced and International Referee Development. Baharmast became a FIFA Instructor and worked many international tournament for men, women and youth.
"As an instructor, he's got this use of the language that draws pictures," said former FIFA referee Brian Hall, director of CONCACAF referees. "He has the ability to use analogies of other parts of life and tie that into reffing. The way he has conducted himself as a role model and as a mentor to so many people around the world, it's pretty phenomenal."
Baharmast also did some teaching with the USMNT, flying to Brazil to advise the players on what type of calls to expect at the 2014 FIFA World Cup.
In 2018, he was named head of refereeing for the Colorado State Soccer Association, a position he holds today.
"What I love so much about Esse is the legacy he leaves with so many people — and it isn't just the people at the very top," former FIFA referee Sandra Hunt said. "Every time I watch him speak to a group … everyone leaves [and] they're ready to do another game and be ready for that challenge. That is an exceptional talent."
From an exceptional referee.