At Every Level of Soccer, Markgraf Made Her Mark
The soccer world doesn't have its own version of an EGOT — someone who has won an Emmy, a Grammy, an Oscar and a Tony award.
At least not yet.
Aside from perhaps Heather O'Reilly, Kate Markgraf probably has come as close as any American soccer player.
She has celebrated:
A high school title.
Three state youth championships.
An NCAA Division I crown.
Several CONCACAF titles.
Two Olympic gold medals.
One World Cup championship.
The former U.S. Women's National Team standout now adds another honor: induction into the National Soccer Hall of Fame. Markgraf, who was elected on the Veteran Ballot, will be inducted in Frisco, Texas, on May 6, 2023.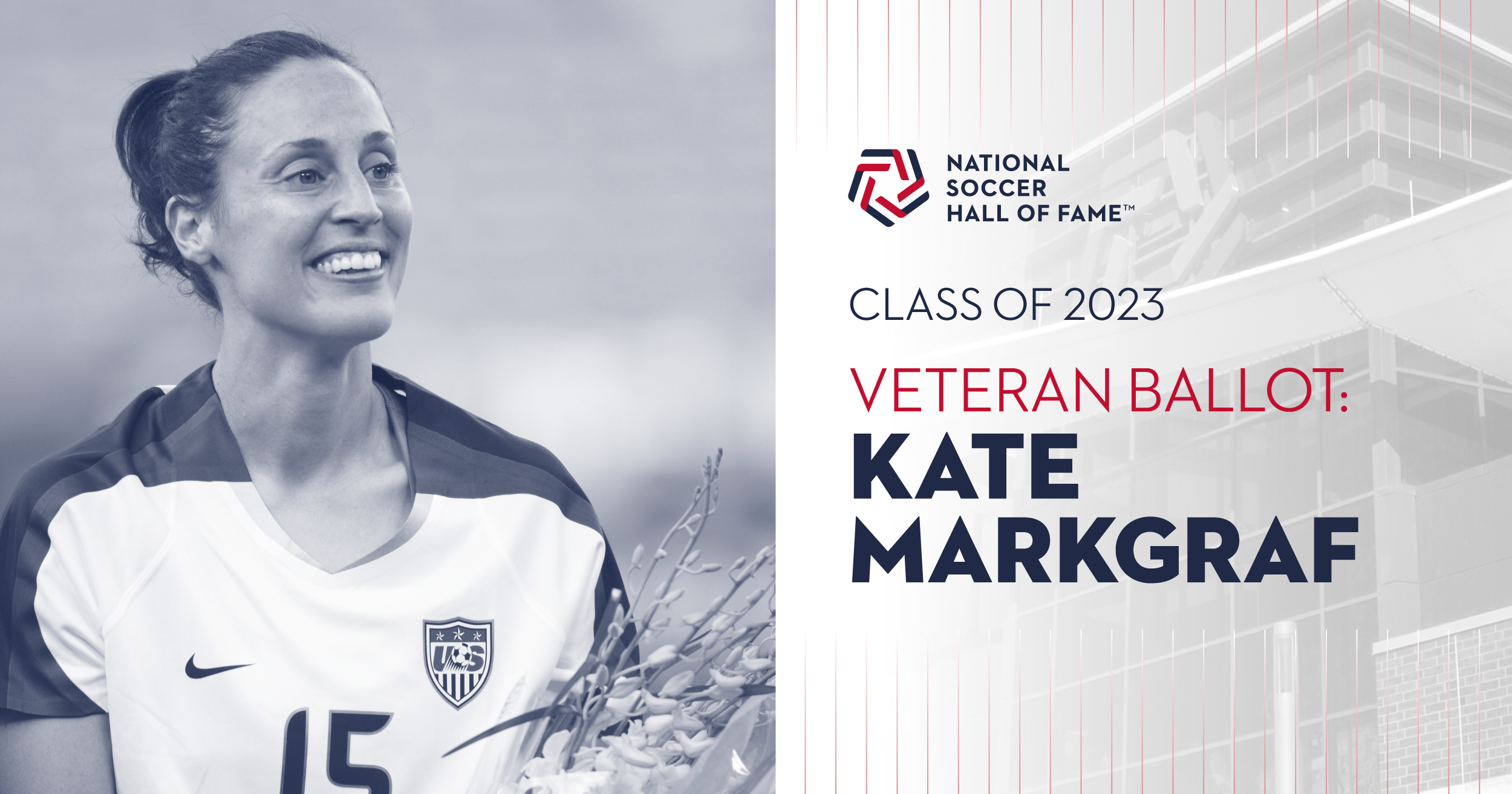 Currently the general manager of the USWNT, Markgraf enjoyed a 13-year career as one of the team's best and most important defenders. She made 201 international appearances and started for the 1999 Women's World Cup champions and two Olympic gold medal-winning sides.
"Sport is a character builder," Markgraf told FC Wisconsin's website. "It tests every part of you, and sometimes you rise up to the challenge and sometimes you fail miserably. I took confidence from the good and used the failures as things to learn from. Those experiences taught me that you can't get too high or too low in those moments because then your whole life is based on the outcome — and that isn't healthy, happy or productive."
While many of her more famous teammates grabbed headlines for scoring goals, Markgraf understood her role.
"My biggest thrill is taking the ball away from somebody or slide-tackling," she told the Los Angeles Times in 1999. "I mean, scoring a goal, it doesn't happen that often, and it's really cool and all. … It's just more my mentality because I'm a really aggressive kind of person."
Aggressive enough to have her nose broken at least twice and to be forced to wear a protective mask. She also suffered a broken jaw and lost a tooth after hitting teammate Tracy Ducar's knee while sliding for the ball during a 1998 scrimmage.
Born Kathryn Sobrero in Bloomfield Hills, Mich., on Aug. 23, 1976, Markgraf took to sports early. She played in the backyard with her three older brothers "who beat the crap out of me," she told the Times. "They took no mercy on me. ... I wanted to be just like them."
Markgraf won three state youth titles with the Michigan Hawks, setting the table for greater things.
"My sanctuary, my thing to do when I was bored, and my habit was to go and find the ball and train by myself," she said. "I would use a wall, my garage and then I put up a net and would just play.
"Playing composed was always an issue for me. It got better the more I did it."
At Detroit Country Day School, Markgraf connected for 16 goals and 26 assists en route to the state high school title. She earned All-American honors and was named to the All-State team three times.
"We had a top program, and I got to play with some of the best soccer players in the state," Markgraf told HometownLife.com before she was inducted into the Michigan Sports Hall of Fame in 2018. "Country Day just pushed you, athletically and academically. So those self-imposed barriers that we put on our own abilities, you just can't do that there and survive.
"So with some great coaches and great teachers, I was learning the strategies to push through those self-imposed limitations. That ended up being a life skill that I've learned through sports and also by going to some fantastic educational institutions that propelled me to where I ended up professionally."
Markgraf also excelled at volleyball. Named to the All-League team three times, she was recruited by several NCAA Division III schools.
Soccer, however, was her destiny.
Markgraf attended a Division I school that was on the upswing in women's soccer: Notre Dame.
"We were a composite of players that were deemed not good enough to go to North Carolina or players that wanted to build something besides North Carolina and were willing to go into the cold weather," she told the Notre Dame Observer in September. "That's a big culture shock for [the California kids], to go to South Bend. So you had players that wanted to build something."
She became a pillar on the backline for the Fighting Irish, who won the 1995 NCAA Division I title. A marking back, Markgraf was named defensive MVP of the Final Four. She started all 96 games and scored seven goals in her four-year career. She also earned All-American first team honors twice and captained the squad as a senior, securing Big East defensive player of the year honors.
"We would never have had the kind of success we had without Kate," former Notre Dame head coach Chris Petrucelli told the Times in 1999. "She could shut down anybody in the country."
Markgraf made her international debut as a substitute in 7-0 win over Argentina on April 26, 1998. She worked her way into the Starting XI and was one of the youngest players on the 1999 World Cup squad, teaming with Carla Overbeck at center back. As the least-experienced starter, she started five of six matches and played all 120 minutes in the final as the U.S. secured its second world championship.
A fleet defender, Markgraf combined tenacious marking with hard work to shut down top strikers, including China's legendary Sun Wen. Markgraf began the competition as a brunette but finished with a different hue after losing a bet with teammate and friend Joy Fawcett, who scored the game-winner in a 3-2 quarterfinal victory over Germany.
Beforehand, an audacious Markgraf told her Fawcett: "If you score. I'll dye my hair red, white and blue.' There's no way. This woman is putting nothing on net," she related at a 2019 International Champions Cup get-together with 1999 teammates.
Fawcett headed home a Shannon McMillan corner kick.
"It was amazing goal but then I'm like, 'Oh crap,'" Markgraf said. "I had to bleach my hair, dyed red, white and blue. I basically had to cut my hair I killed it so much. It was really great to be in all those magazine covers with my mullet."
She competed in the 2003 and 2007 World Cups – both third-place finishes — and after each tournament, Markgraf and the squad bounced back the next year with Olympic gold medals (2004 and 2008).
Markgraf told The U.S. Soccer Podcast in 2020 that the 2004 gold medal "was for other people, and [2008] was for me, because I did it as a mom. In 2004, Mia [Hamm], Julie [Foudy], and all those guys were retiring, so it was actually an easier tournament to play in, because we were playing for them. I had always played for people. In 1999, I played for those guys, '04 for was for them.
"In 2008, our team all came together, but we were all able to pursue our own individual dreams along with the collective. That was the first tournament I actually played for me, so that one has a different meaning for me."
After returning home from Beijing in 2008, Markgraf achieved a personal milestone: her first international goal. She had the longest scoreless streak in USWNT history (192 games), but it has since been surpassed by Becky Sauerbrunn.
Her teammates played a role to snap the streak in a 2-0 friendly win over the Republic of Ireland in Bridgeview, Ill., on Sept. 20, 2008. With the USA ahead 1-0, Natasha Kai was fouled inside the box in and a penalty kick was awarded. Markgraf's teammates motioned for her to take the kick.
"For the past 10 years, any time we've had a penalty opportunity that wasn't in a major tournament they've tried to get me to take one," Markgraf told StarsandStripes.com. "Today I finally caved and said 'OK, I'll take one.'"
Markgraf buried the ball into the lower left corner and her teammates mobbed her in celebration.
On July 13, 2010, she became the seventh USWNT player to reach 200 appearances, wearing the captain's armband and playing right back in a 1-1 friendly draw with Sweden.
At the club level, Markgraf played with the Boston Breakers (Women's United Soccer Association) from 2001-03, KIF Orebro DFF (Sweden) in 2005, Michigan Hawks (USL W-League) from 2006-09 and 21 matches with the Chicago Red Stars (Women's Professional Soccer) in 2010.
Twice, she took time off to start a family after marrying former Providence College soccer player Chris Markgraf in 2003. Three years later, she gave birth to Keegan. In 2009, the Markgrafs had twins, daughter Carson and son Xavier, as she missed the inaugural season of Women's Professional Soccer.
Markgraf played her final professional game on Oct. 13, 2013, though head coach Omid Namazi felt she had plenty left in her tank.
"I still want to convince Kate to come back and play another year," he told BoxScoreNews.com. "She is still one of the best center backs in the country without a doubt. But if this happens to be the end of her career, it has been nothing short of extraordinary. Besides all the medals, cups and accolades she has won, her longevity and consistency set her apart as one of the all-time mainstays of the U.S. Women's National Team program.
"She's a true professional and a role model for all younger players."
After retiring, Markgraf explored the mental side of the sport; she earned two master's degrees in Kinesiology and Educational Psychology.
"I wanted to explain why there were players that I played with that were better than me that would amazing for one or two camps, but then couldn't handle the pressure," she said on the U.S. Soccer podcast. "And I wanted to understand how people like me, that maybe lacked composure in key moments of the game, could still find a way to play."
Markgraf also worked as an analyst for ESPN at the 2011 World Cup and for NBC at the 2012 London Olympics. At the European Championship in 2016, Markgraf became the first female broadcaster to call a major men's soccer tournament for ESPN.
In partnership with U.S. Soccer and the U.S. State Department, Markgraf traveled to Ethiopia to stage soccer clinics and camps for youth in 2012 and for teenage girls in Chile in 2013. She also created Markgraf Sports & Leadership Academy in Milwaukee, using soccer, theater, music and yoga to help girls step out of their comfort zones.
Today, Markgraf is making important and impactful decisions for U.S. Soccer as the USWNT's general manager. She was named to that post on Aug. 12, 2019, marking a new chapter in her continuing impact off the field.